Our Division
The UC San Diego Division of Hospital Medicine is comprised of 60 faculty hospitalists (including 11 nocturnists) and 7 physician assistants providing inpatient care for the UC San Diego Health medical centers in La Jolla and Hillcrest.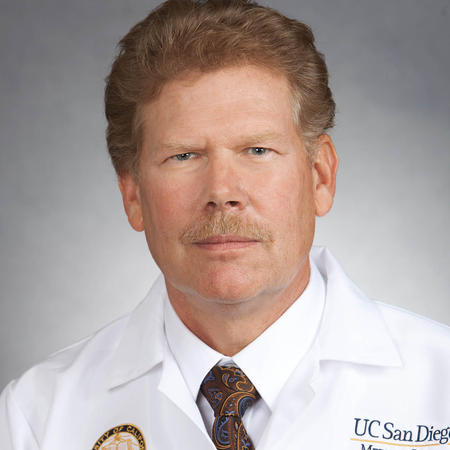 Chief of Hospital Medicine
Daniel Bouland, M.D., M.S., FACP, Health Sciences Clinical Professor is the Chief of Hospital Medicine. Dr. Bouland joined the Department of Medicine faculty in 2006.
As a professor in the Department of Medicine, Dr. Bouland instructs medical students, residents and fellows at UC San Diego School of Medicine.
Fellowship
This one-year program includes direct patient care and is designed with a focus on developing core skills in quality improvement techniques, scholarship, medical education, and leadership.
Grand Rounds
The Department of Medicine Grand Rounds provides education for physicians and health care providers to improve knowledge, competence, and performance.
Patient Care
UC San Diego Health is ranked #1 in San Diego and #5 in California, placing it among the nation's best hospitals, according to the 2021-2022 U.S. News & World Report survey.
Support Internal Medicine
To support the general research, education and clinical activities of the Division of Internal Medicine, donate to the Internal Medicine Research, Education and Clinical Fund.